Corsair K100 Air Wireless Keyboard Review – Lightweight And Tactile
I'm far too used to chunky keyboards. Metal behemoths covered in mechanical keys that could easily break in a car window, outfitted with absurd amounts of customisation and features I will probably never use because I play most of my games using a controller. Yet I also type a lot of words as part of my regular job, so having a keyboard that understands me is essential. After using it for a few weeks, the Corsair K100 Wireless is lightweight, functional, and surprisingly adept at everything I threw at it.
Switching to a smaller keyboard like this was unusual at first, with the spacing of specific keys and functions further away than I was used to, while the less tactile feel of actually using the device meant I suddenly had a much quieter work environment. But I quickly got used to it, putting aside accidental typos as simple teething pains as I tamed this wireless beast and customised it to my liking. Acting as an alternative to its wired sibling, the K100 Wireless retails for $279.99 and is small enough to be used with a desktop PC, larger tablet, or even a games console if you want to really branch out.
The price tag is hard to swallow. For that much you could purchase a more accomplished keyboard awash with different features, but the K100 Wireless squeezes all of these factors into an obscenely thin peripheral with tactile mechanical keys, luscious RGB lighting and a form factor that makes me want to never go back to something more cumbersome. It's almost deceiving at first glance, because to many this will resemble a glorified bluetooth keyboard you'd buy for much cheaper, but under the hood awaits an innovative experience that I haven't had a single complaint with. It also attracts far less cat hair which is a plus.
The K100 Air features mechanical keys with tactile feedback, but they are almost silent compared to keyboards of a similar ilk. Cherry MX keyswitches and radically reduced travel across the body means that typing long streams of text or hopping between commands in the midst of a tense Overwatch match is a breeze, and the reduced profile doesn't take away from all the features one would expect from a gaming keyboard. The numpad is present and accounted for alongside a handful of macro keys that can be assigned to specific inputs. Across the top of the aluminium chassis sits a streamlined media bar that allows you to fast-forward, rewind, or pause any music or video clip at the press of a button. There's also a volume scroll wheel that's cold to the touch, yet it's sensitive enough to make exact movements. I would normally ignore these commands on more complicated keyboards, but Corsair has made them simple yet approachable in how they fold into the overall design.
Battery life lasts up to 200 hours, although this will vary depending on what manner of RGB lightning you decide to implement. Using Corsair iCUE you can put together specific patterns using a whole swathe of colours, or opt for existing profiles instead. I wanted battery life more than anything, so I went with a mode that lights up individual keys as you use them, leaving behind a rainbow-esque trail of colours that never repeats itself. I've not seen this on a keyboard before, and it sure beats my mandatory selection of pride colours across the rest of my devices. I've been using it for over a week now and haven't had to plug it in once, and the inoffensive bluetooth dongle means the K100 Air blends into your setup seamlessly.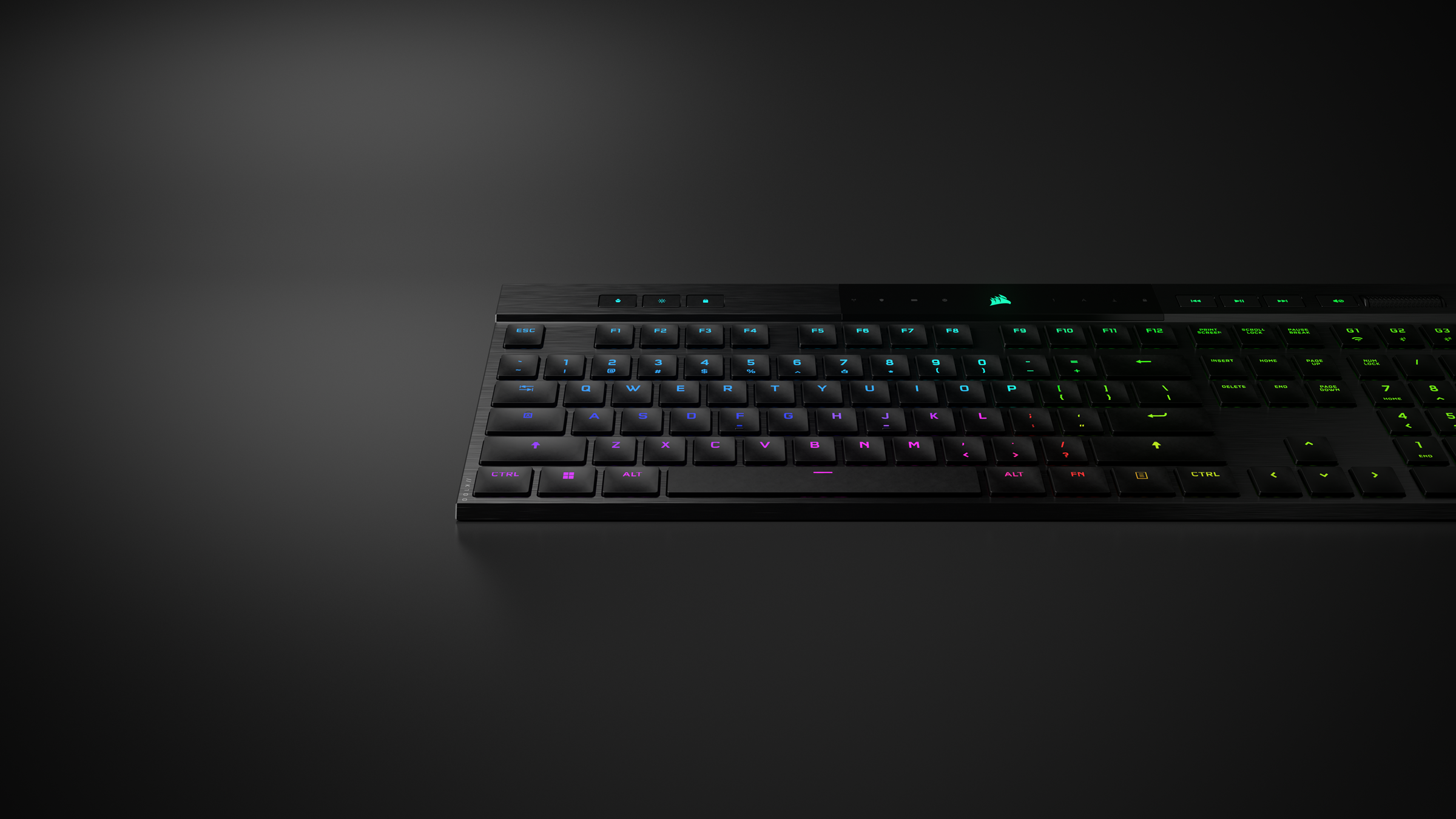 Magnetic stands can be found at the back which can be adjusted to match your typing style, while the keyboard itself weighs in at a measly 0.78kg with a width less than most fingers. It's almost hard to describe how dinky this thing really is, but it packs a massive punch in spite of itself. Gamers are so used to excessive peripherals covered in flashing lights and masculine insignia designed to emphasise their digital prowess, but in recent years I've been leaning towards devices that are sleek, simple, and get the job done. I probably wouldn't pay $279.99 if I was your average joe, but enthusiasts looking for a wireless option that doesn't leave anything behind in the transition will find a worthy investment here.
Source: Read Full Article