Black Desert Adds Guardian Class To PS4 And Xbox One
Available on PC earlier this year, the long-awaited Guardian class has finally landed on PS4 and Xbox One. Bringing with her a penchant for demolishing foes up close with visceral melee skills, BDO players now have another great option on the battlefield.
Since the Guardian class is already available on PC, we know just about everything there is to know about her skills, abilities, and playstyles. If you're on the fence about rolling a new character, here are a few of their active skills to entice you:
Boulder Crush: Three powerful swings with her battle axe, obliterating anything in its path.
Mountain Slam: Create powerful waves dealing damage to nearby foes.
Black Blood Circle: An AoE attack damaging anyone who enters the circle.
Mutilation: Sweep enemies aside with a swing of her axe.
Black Blood Slaughter: Unleash gathered power in one brutal swing.
The addition of the Guardian class isn't the only big update to BDO on PS4 and Xbox One. Pearl Abyss is celebrating her arrival with several new login rewards, including Advice of Valks, 7 Days Value Package, Gold Bars, Ellion Tears, and more.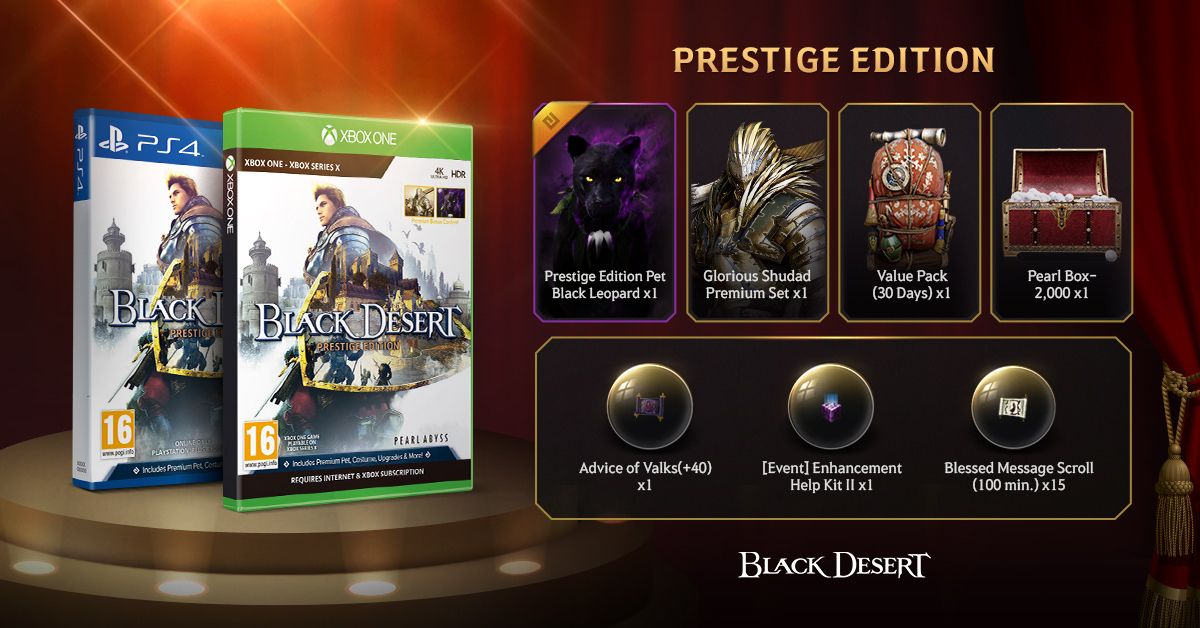 Succession is also here for Lahn, Striker, and Ninja classes. This allows you to take advantage of powerful new attacks for your character's main weapon. You'll first need to reach Awakening – only then will you unlock the questline that opens up Succession. It's not an easy undertaking, but if you're looking to boost your damage output on the battlefield it's a worthy endeavor.
Pearl Abyss even announced a physical version of Black Desert, heading to retailers on November 6 for Xbox One and PS4. Called The Prestige Edition, you'll get bonus content worth more than $140, including exclusive pets, the Shudad premium set, a 30-day Value Pack, and more.
Beyond the above additions, the latest Black Desert update features dozen smaller bug fixes and system adjustments. You can find a detailed list on the official Black Desert website.
Black Desert is available on PC, Xbox One, and PS4. There's even a mobile version of the game, although it's not crossplay compatible and follows a different update schedule.
Source: Read Full Article