Assassin's Creed Valhalla Wrath Of The Druids: How To Get The Druidic Armor Set
One of the new armor sets in the Wrath of the Druids DLC for Assassin's Creed Valhalla is the Druidic Armor Set. It has a perk that will ensure you never die, not to mention an amazing design. Its stats are quite impressive as well, but those listed can change based on your skill tree choices.
It might take some work to track down all of the pieces, but once you have it on you won't ever want to take it off. You will want to travel to Ireland just for this gear set when playing Wrath of the Druids in Assassin's Creed Valhalla.
Where Do You Find the Druidic Armor Set?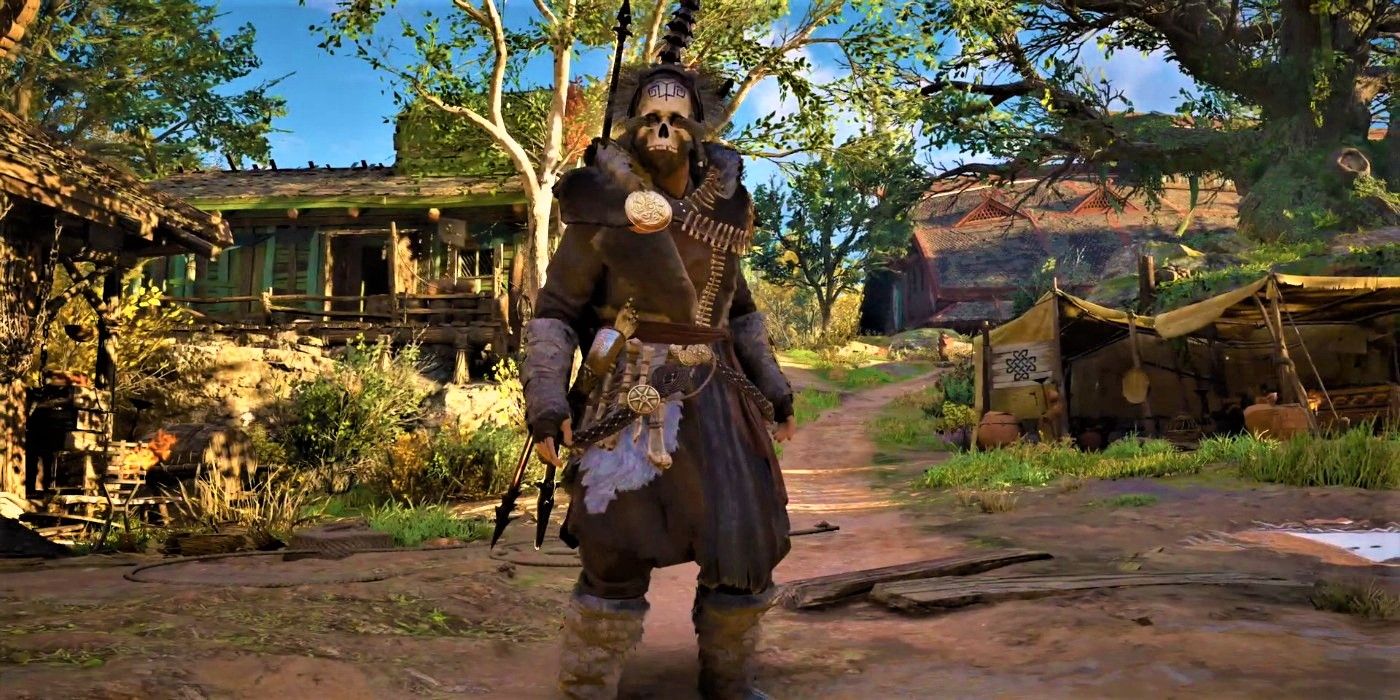 The Druidic Armor Set is obtained through wealth chests in Wrath of the Druids, but the search definitely pays off. If you wear two pieces of the armor then some health will be restored after three hits. However, if you manage to wear all five pieces then your melee resistance and poison build-up resistance will also be given a boost.
It was made for those who prefer a light build, especially when paired with the new dagger that was just added as part of this DLC. The combination of its weight and perks makes it perfect for these types of players.
Druidic Armor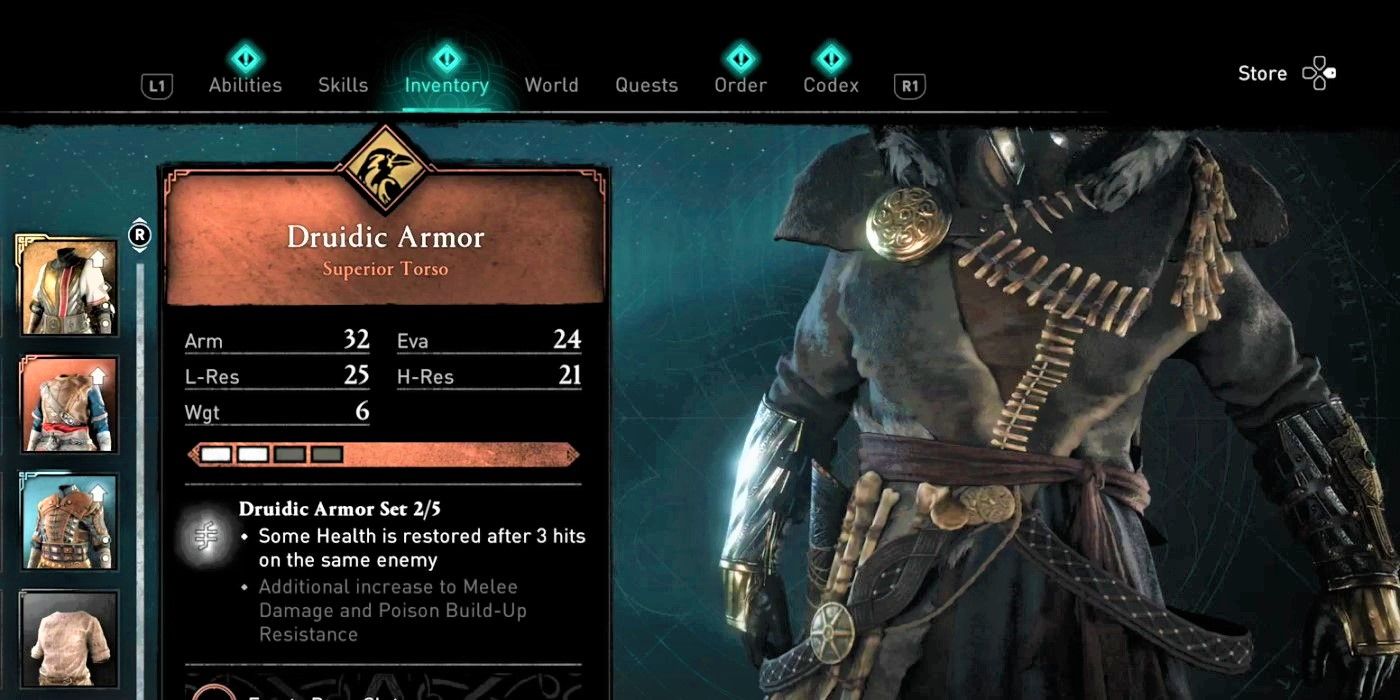 The Druidic Armor can be acquired by visiting Boyne's Tomb in Meath. Head to the lower portion of the crypts and the chest will be tucked away in an alcove.
Stats
Armor: 32
Evasion: 24
Light Resistance: 25
Heavy Resistance: 21
Weight: 6
Druidic Cloak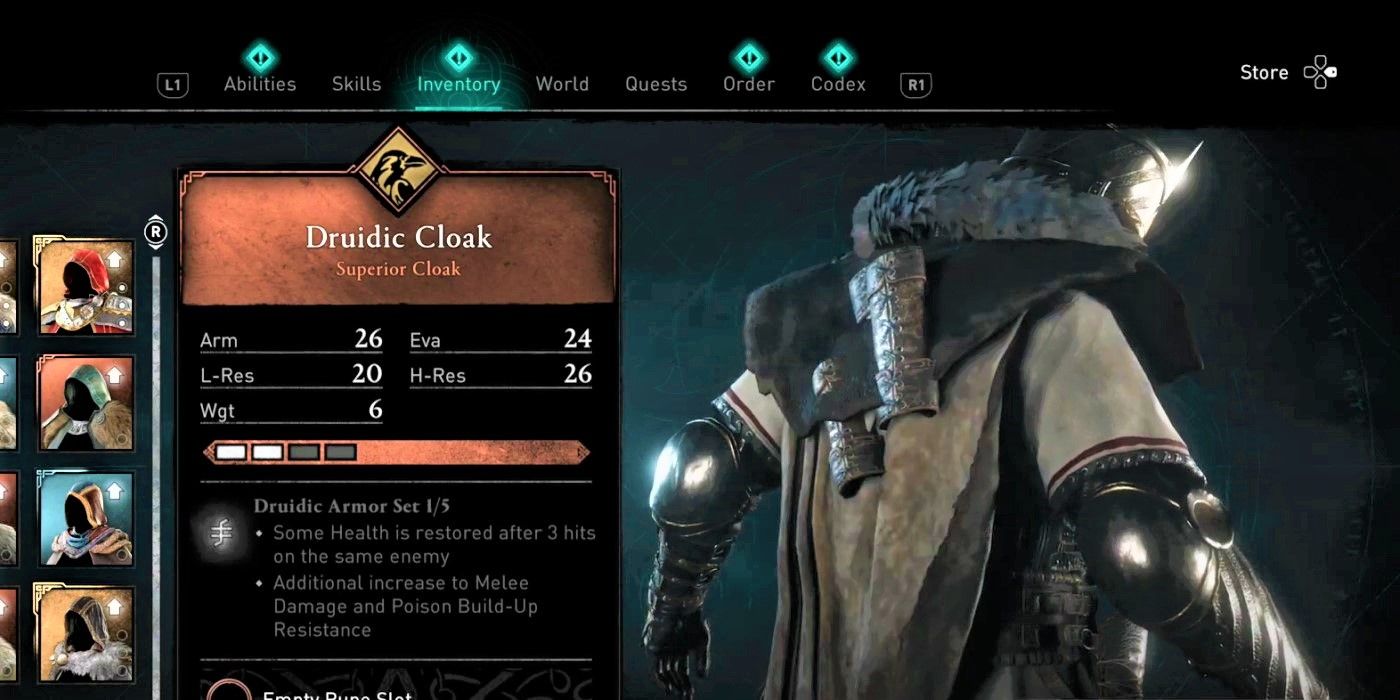 You need to head to Ulster to obtain the Druidic Cloak and you have to find a place called Doon Fort. It is in the northwestern part of this region and it is hidden within a small nook in a rock fortification, so you might need to use Odin's Sight to find it.
Stats
Armor: 26
Evasion: 24
Light Resistance: 20
Heavy Resistance: 26
Weight: 6
Druidic Breeches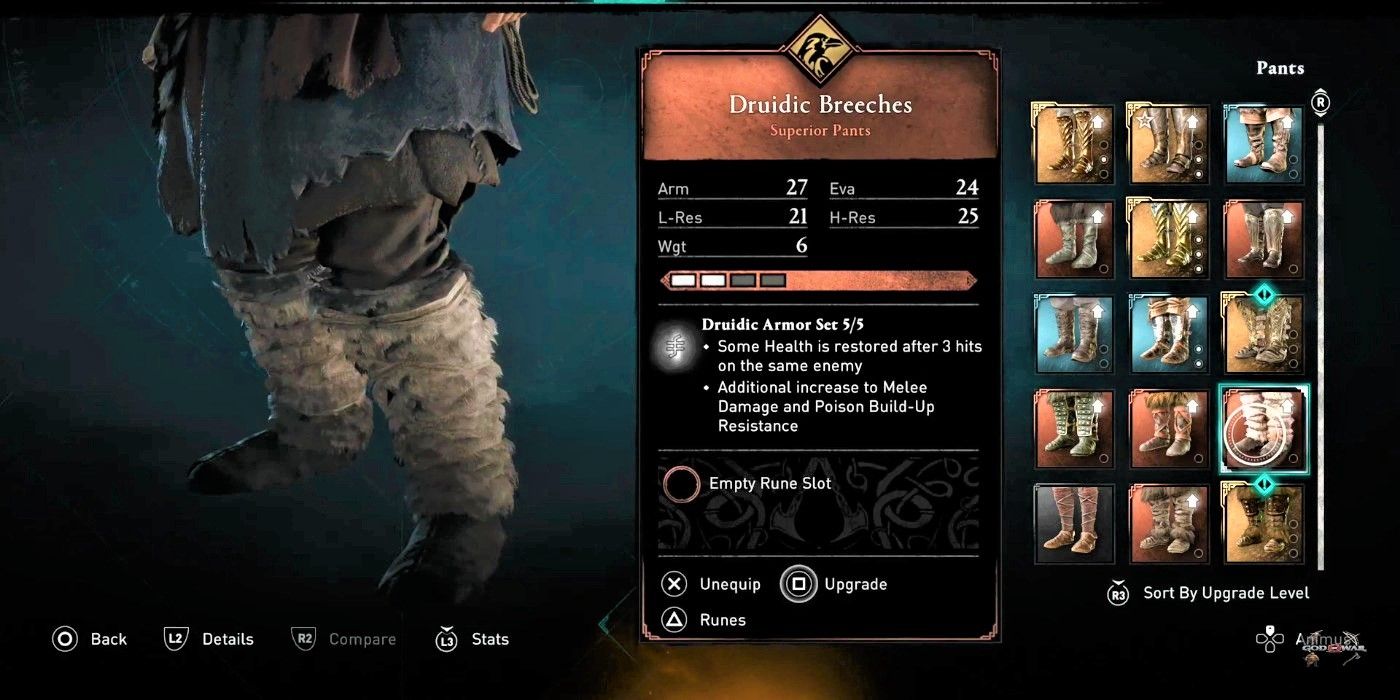 The Druidic Breeches are in a region called Connacht at a location named Kesh Corran. You will need to find a cavern hidden behind a breakable rock wall, then use your Incendiary Powder ability to take it down. The chest will then be able to be accessed so you can add this armor piece to your collection and proceed to pair it with your best weapon.
Stats
Armor: 27
Evasion: 24
Light Resistance: 21
Heavy Resistance: 25
Weight: 6
Druidic Bracers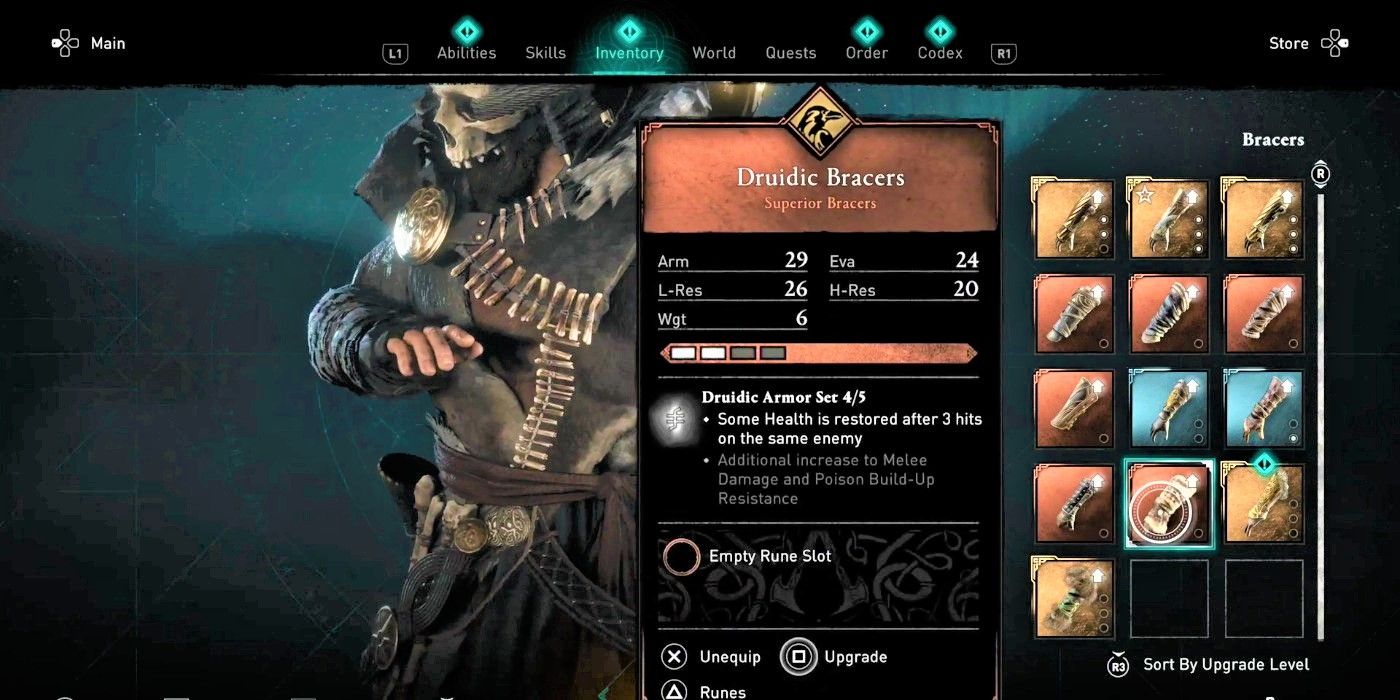 When you are in Ulster look for a location called Donegal as this is where the Druidic Bracers are located. Locate the large house with boarded windows, then shoot them out and access the chest inside.
Stats
Armor: 29
Evasion: 24
Light Resistance: 26
Heavy Resistance: 20
Weight: 6
Druidic Helmet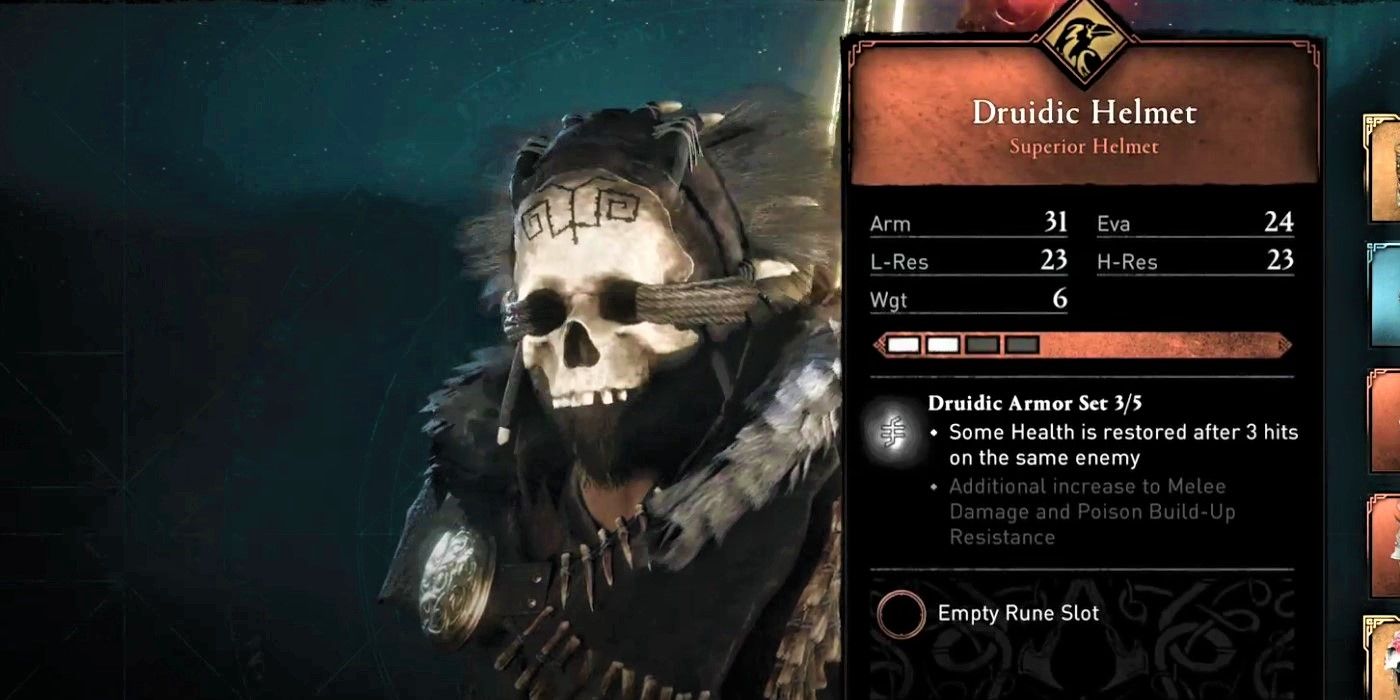 If you head to Ulster you will find Movilla Abbey, which is where this piece is located. Shoot the lock off the door to the church to access the chest and complete the set for one of the best armors in Assassin's Creed Valhalla.
Stats
Armor: 31
Evasion: 24
Light Resistance: 23
Heavy Resistance: 23
Weight: 6
Source: Read Full Article