Anya Taylor-Joy And Nicholas Hoult Talk The Menu, Acting Scared, And Hair Dye
The Menu is an oddly indefinable film. It's presented as a horror/comedy, but even in a genre so sweeping and broad, that doesn't tell the whole story. It's tragic, it's satire, it's thriller, it's mystery. This buffet of genres is nothing new to its two stars, Nicholas Hoult and Anya Taylor-Joy. Hoult has played with horror-comedy before in Warm Bodies, while Taylor-Joy has a wealth of experiences along the fringes of horror in the likes of Thoroughbreds, Split, Last Night in Soho, and The Witch. Sitting down with the pair of them, I asked what it was that kept drawing them to ideas on the edge of genre, and to a script like The Menu.
"I think it's originality," Taylor-Joy says. "I'm insufferable to watch a movie with or a TV show with because I'm constantly guessing lines, guessing storylines. I'm like, 'that person's gonna die', like 'this is gonna happen, they're gonna figure out that the power is love'. Luckily, my partner enjoys it, no one else really does. And when I was reading the script [for The Menu], I could not tell you what was going to happen next. And the ending I definitely did not get. And I wanted to be a part of it."
Even within the confines of horror, both actors get to play around with the usual tropes. While many characters in the movie are typically frightened, in the way horror characters often are, that's not the case for either Hoult's Tyler (who relishes the situation) nor Taylor-Joy's Margot (who drives the movie onward with steely determination). Hoult tells me that getting to do horror a little differently was a major relief.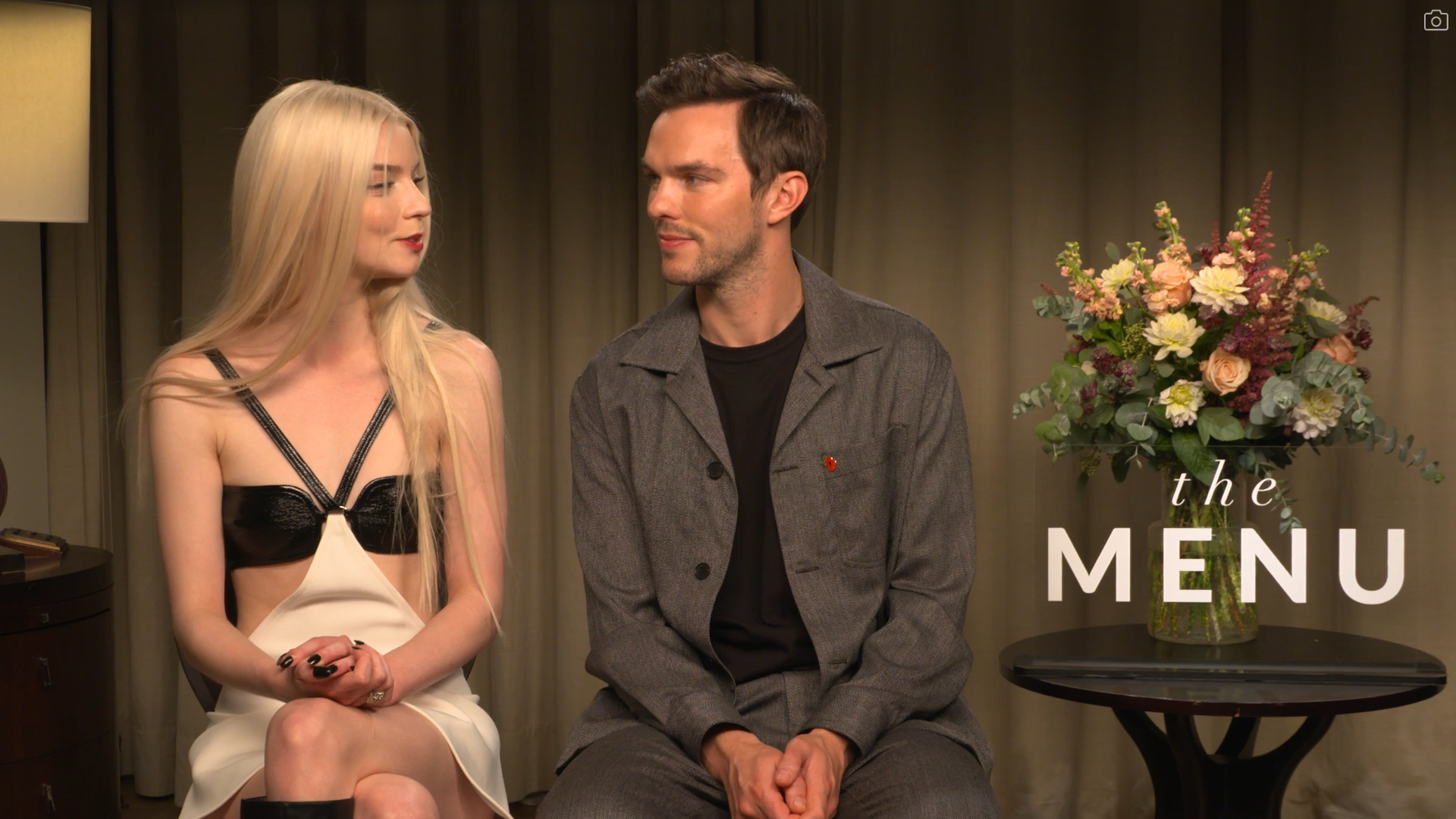 "I thought if I actually did a full on horror movie, I'd be terrible at it," he laughs. "Because I don't particularly enjoy acting scared. I can't imagine doing eight weeks of like [Hoult fakes a frightened gasp], there's only so much [another fake gasp] I can do. So the fun thing for Tyler is you kind of wonder what is going on. And it's bizarre, that was a fun thing for me to tap into, because there are these horrendous things happening in this restaurant, and he's still just so focussed on his meal and enjoying himself. That was a fun, counterintuitive thing to play, an opposite of the normal choice, I guess."
If Hoult was able to bring a sense of fun to the horrific events unfolding around him, that makes Taylor-Joy something of the straight-man opposite him. Like Hoult, she tells me of the enjoyment she found in playing off the energy of the situation, and her character's ability to stand out from it all. "I love the fact that Margot is deeply comfortable in her own skin," she says. "She won't be told that she's wrong. She's the only person that's really not trying to impress anybody there. She's only trying to provide an experience. It was fun, because a lot of the time, the hardest thing was trying to keep a straight face because that was my job. It was to keep a straight face whilst Nick was stuffing his face with food and saying ridiculous things."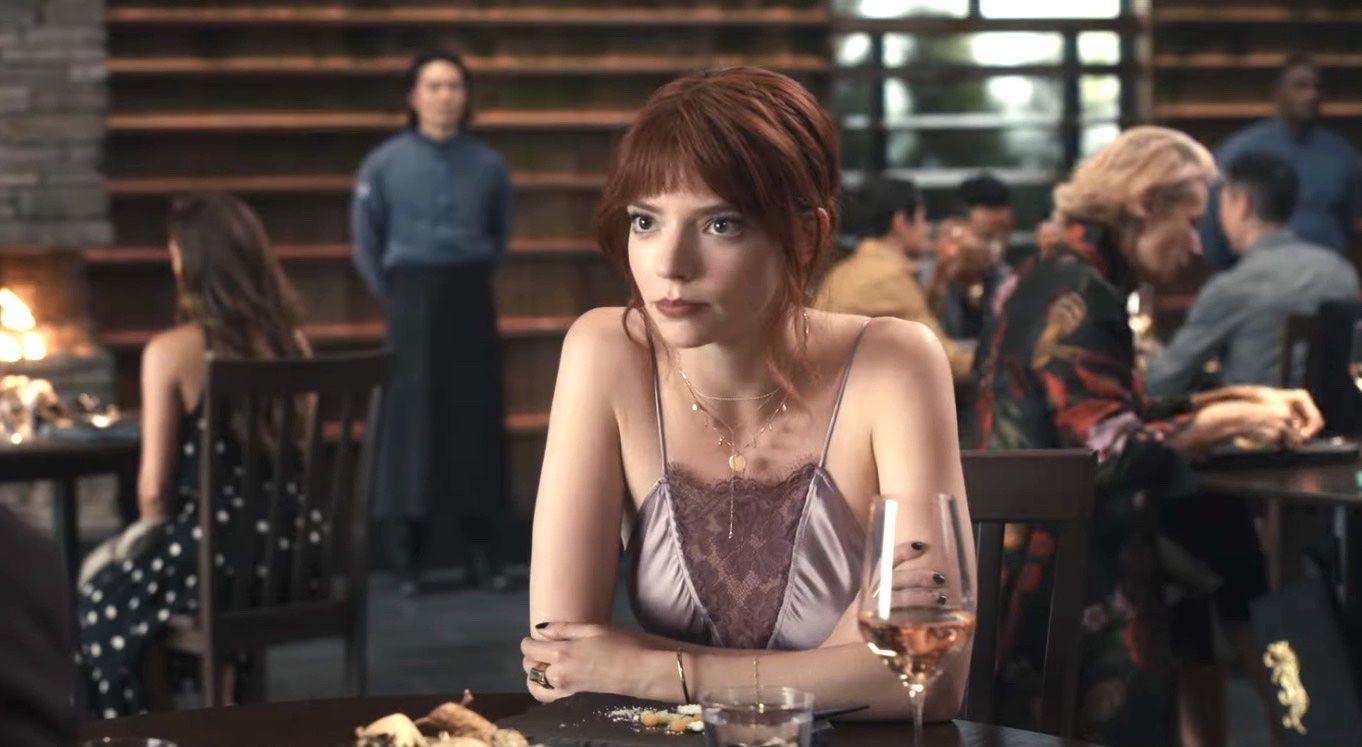 Before anyone had seen a single scene from the movie, a tiny corner of the internet was already excited by The Menu, for one very specific reason: Anya Taylor-Joy's hair. The ATJ fandom follows Taylor-Joy's hair very closely; the star has sported black, brown, and (briefly) ginger in real life, as well as her current and most frequently spotted hair colour, blonde. In her on-screen life, her hair has changed just as often, and her most committed fans are always excited to see her take on a new colour or return to a classic. The Menu is a dark orange ombre, a new entry in the Anya Taylor-Joy hair canon, and the closest she's been to Beth Harmon's nut red post-The Queen's Gambit. I asked Taylor-Joy if she was aware of this obsession within her fanbase, and in her answer, she teased where she might be headed next.
"[Changing my hair is] part of my favourite thing about my job," she says, after admitting she had no idea fans took so much notice. "I very early on realised that characters were real for me. I just don't have any interest in playing myself, really. So the first thing that comes together is 'what is their face when they're alone, and then what do they look like?'. So I love getting to look as different as possible in every single film. But one thing I would really like to have for myself though is, at some point, I want to dye all of this red and just rock that for a little bit and probably shave it off or something like that."
The Menu is in cinemas from 18 November.
Source: Read Full Article