Animal Crossing: New Horizons Fans Create Adorable Nook's Cranny Cathouse
Animal Crossing: New Horizons has brought out many inner artists, from interior and landscape designing to horror movie trailer enthusiasts. The possibilities are endless, and one Redditor has shared a cardboard recreation of Nook's Cranny for a feline character.
IntervalSignals posted the delightful creation for the world of Reddit to marvel over, and highlighted the fun they had in creating it. Made primarily from cardboard boxes and lots of crafty glue-work, the recyclable Nook's Cranny variant is the perfect resting spot for passers by. Featuring in the debut image, the creator's cat makes itself comfortable in the doorway of cardboard Nook's Cranny, complete with a small notice board to notify travelers of the day-to-day.
Related: Theory – Animal Crossing: New Horizons And Zelda Breath Of The Wild Exist In The Same Universe
The post received plenty of upvotes from other Redditors who praised the creator's talent, the use of recyclable materials, and of course, the cat. Users also named the creation "Cat's Cranny" as the resting feline looked quite comfortable in its new abode. The post inspired other users to go and create their own version of Nook's Cranny, and expand on to a museum or Able Sisters shop for their pet's various collars. The creation chain is real within the Animal Crossing community, where fans continue to inspire others.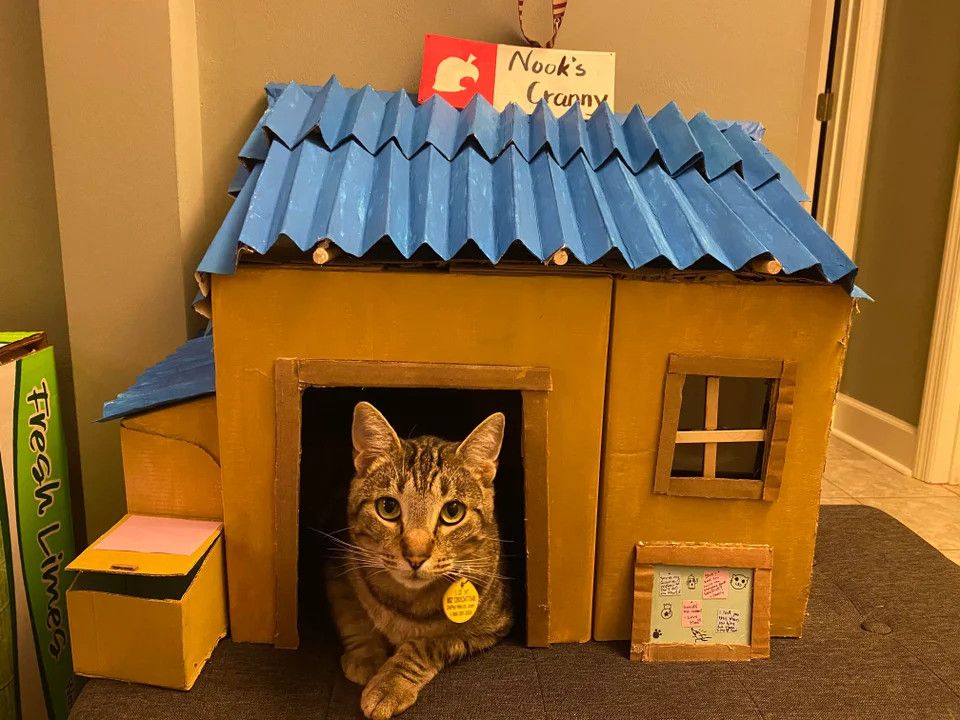 The cardboard build is inspired by Nook's Cranny, a store belonging to the landlord from hell Tom Nook. The raccoon's store – primarily called Tom Nook's Store – has appeared in most of the mainstream Animal Crossing titles, except for Animal Crossing: New Leaf where the store is substituted for Nookling Junction. The popular store makes a return in AC:NH, however it is run by Timmy and Tommy and named Nook's Cranny, containing a larger inventory than before. A shipping box was also added outside the store in New Horizons, that sell items at a reduced price around the clock.
Cat's Cranny went down well on Reddit, with some users asking for the QR code to download the creation in-game. Nintendo has actively supported the sharing of creations within the AC fan base, and has imported many diverse designs in-game for villagers to use at their disposal. Perhaps Nintendo will commission player's designs in the future for all to enjoy.
Source: Read Full Article