$30 Season Pass Announced For Xenoblade Chronicles 3, Contains Brand New Story Scenario
Today's Nintendo Direct focused entirely on Xenoblade Chronicles 3, the fourth game in the series. Besides outlining the game's story, world, characters, combat, and features, today's presentation also revealed a surprising amount of additional content will be coming to Xenoblade 3 until the end of 2023.
The Expansion Pass is priced at $29.99 and provides new content on launch day as well, some more at the end of the year, yet more the following spring, and an entirely new story scenario by the end of 2023.
On launch day, July 29, the Expansion Pass will provide new players with helpful items and cosmetic outfits for each character. On December 31, 2022, players can expect to find new hero characters, quests, even more outfits, and a Challenge Battle. Expect more of the same on the update scheduled for April 30, 2023, and finally, end next year with a new story scenario that will presumably expand on Xenoblade 3's ending.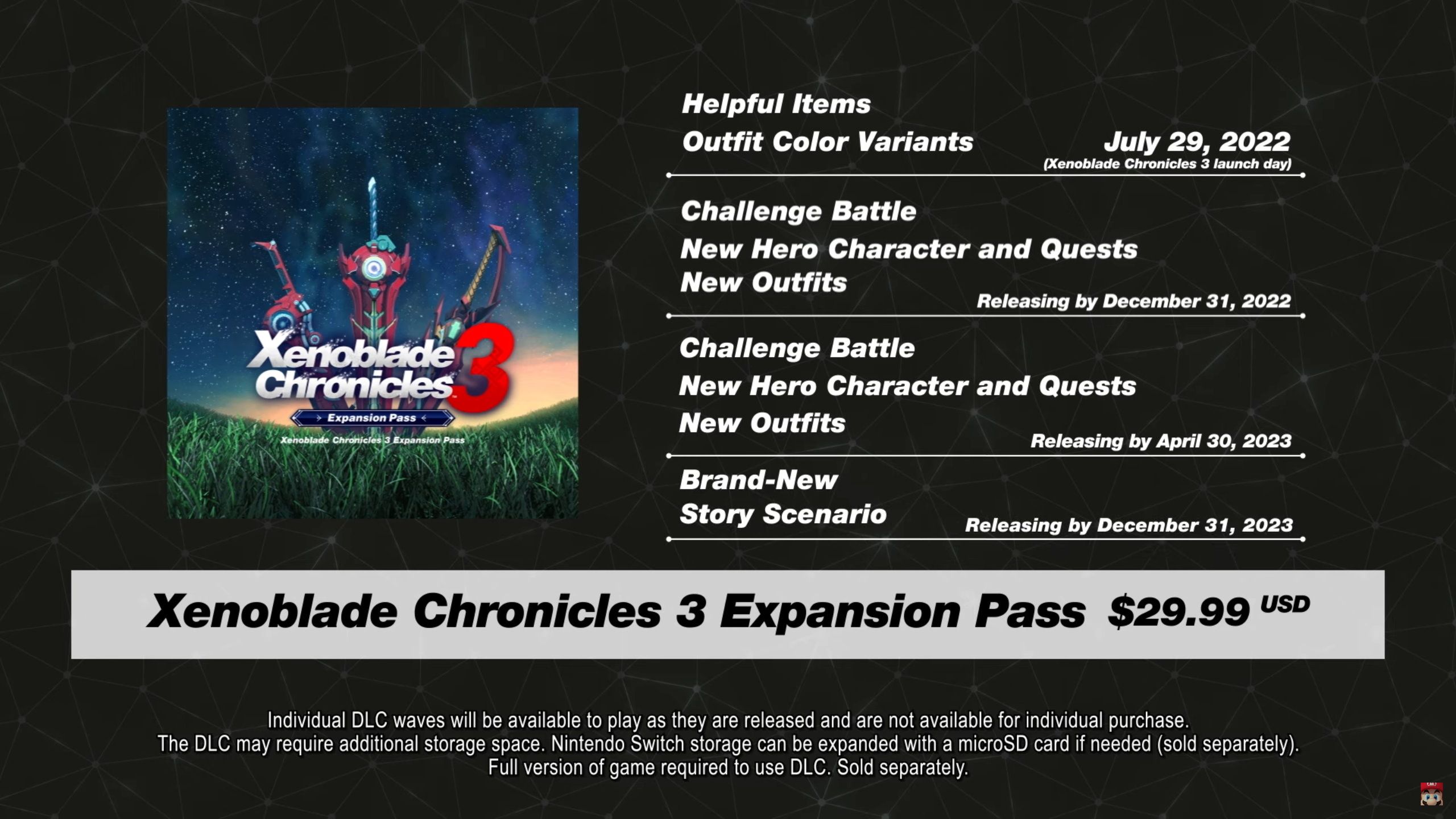 Nintendo didn't offer many details on the new hero characters or what a "challenge battle" entails other than fights against "difficult enemies." The store page says more details will be forthcoming.
Xenoblade 3 is also compatible with every Amiibo figure out there, which can be tapped for helpful in-game items. Those who have the Shulk Amiibo can also get his sword for Noah when he's using his Swordfighter class.
The world of Ionios looked quite amazing in today's Direct presentation, with varied wildlife and beautiful vistas that seem to push the Switch's hardware to its very limits. Players can expect to explore a wide open world full of wildlife that can be "docile or dangerous," depending on their mood. A fast travel system makes getting to places you've already been easier, and there's even a helpful pathing system that will get you to colonies as fast as possible.
There's more in today's Xenoblade 3 Direct, so check it out in our coverage here. Xenoblade Chronicles 3 arrives on July 29 only for the Nintendo Switch.
Source: Read Full Article