Cygames Has Postponed Shadowverse World Grand Prix 2020 Again
Shadowverse World Grand Prix 2020 is the latest event to fall under the shadow of Covid, as Cygames announces its delay. The 2020 competition was already postponed from last year to June 2021, however, that summer slot is no more. While a replacement date has not been confirmed, Cygames does have a plan going forward.
Shadowverse is a digital collectible card game published by the Japanese studio. Its annual Grand Prix event offers $1 million as the top prize, and hosts some of the best Shadowverse players from around the world. The 2019 event took place on Christmas Day and crowned Sasamumu the winner, after competing with the game's expansion Verdant Conflict. The 2020 event was scheduled to take place in December once again, but was delayed until June 2021 because of the pandemic. There is now confirmation that the 2020 event will merge with next year's.
Cygames posted an announcement on the game's website offering condolences to all who have been affected by Covid, and the team also showed their support to the medical workers. As Japan is still within a state of emergency, Cygames pointed out that participants from outside the country would not be able to take part. The team then confirmed that they were looking to combine the 2020 event with the World Grand Prix 2021. This decision would therefore invite the 24 players from last year's event to join the 24 players from next year's, making a total of 48 participants. In light of this decision, Cygames is also looking at doubling the Grand Prix's prize money.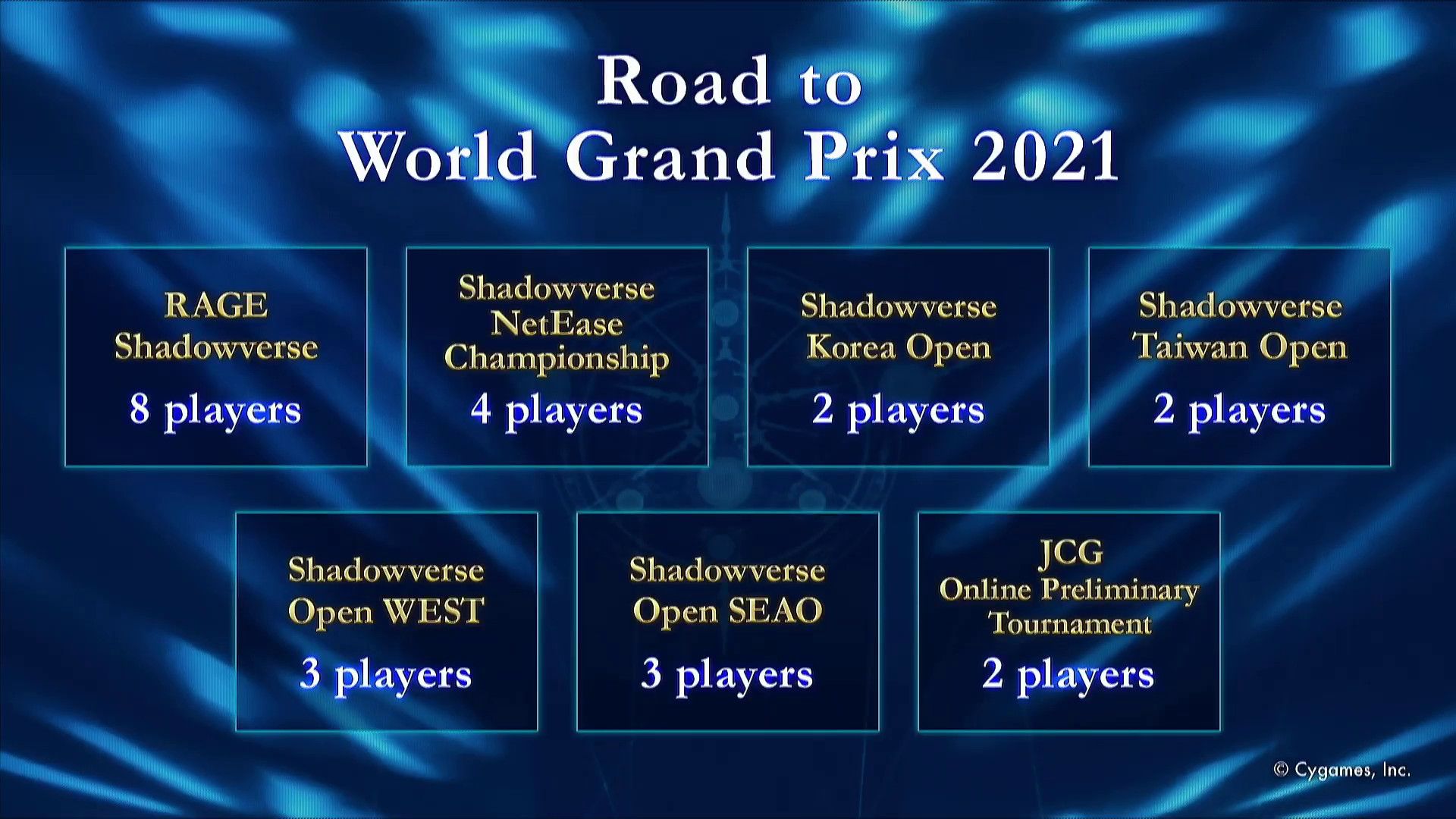 The "Road to World Grand Prix 2021" was posted by the Shadowverse Twitter page back in December, providing a breakdown of the 2021 event. It was confirmed that there would be eight players in the Rage Shadowverse, four in the NetEase Championship, two in the Korea Open and two in the Taiwan Open, three players in the Open West, three in the Open SEAO, and lastly, two players in the JCG Online Preliminary Tournament. These numbers are expected to change once more details of the event merger is announced.
In addition, Capcom had to cancel its Capcom Cup due the pandemic. After a spike in the infection rate, the publisher decided to cancel the event altogether after postponing it once before.
Source: Read Full Article