2020 Worlds Semi-Finals contenders finally set
The Knockout stage of the 2020 League of Legends World Championship continues after the end of its first phase: Quarter-Finals. Four teams remain to compete for the most important international trophy, after four days of Bo5 series that turned the Championship even more exciting.
On the first day of the Quarter-Finals stage, DAMWON Gaming became the first team to qualify for the Semi-Finals after beating DRX 3-0 in a slow but high leveled series.
The next day, we had the LPL fight on the other side of the bracket, and Suning proved all the surveys wrong by beating JD Gaming 3-1 in a crazy series that nothing had to do with the previous day.
On day three, it was time for the LEC representatives to inaugurate their path through the Knockout stage, with Fnatic facing Top Esports.
The series was insane. The European team managed to win the first two games, but Top Esports performed the first reverse sweep in Worlds' history, and came back in the series, won three games in a row, and qualified for the next phase were Suning was already waiting for them.
The opposite thing happened on the last day of Quarter-Finals, where the only European team remaining, G2 Esports, had to face Gen.G.
This time, it was the LEC representative who dominated the series, winning 3-0, while the LCK team had absolutely no chances to win, nor to come back in the series.
With this result, we know that the second Semi-Final series will be featured by G2 Esports and DAMWON Gaming!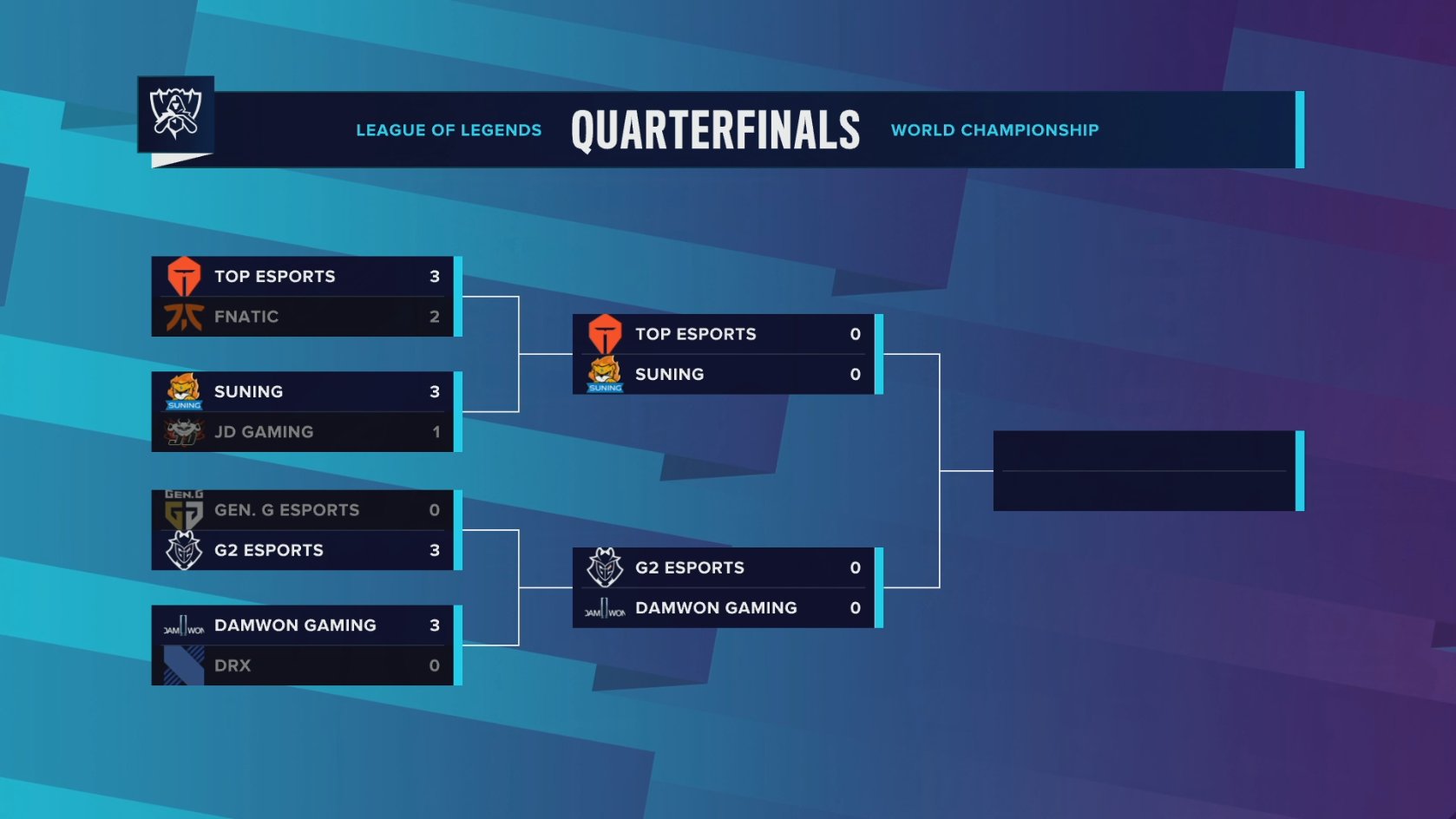 You can follow this match next Saturday, October 24th, on the official channels! Check the schedule for Sunday's Semi-Finals (Suning vs Top Esports) here.
Source: Read Full Article